Today is the 75th anniversary of VE Day, and there will be many recollections published I'm sure.  I wasn't born then, so I can only defer to my parents' recollections, which were few – their generation did a good job of shielding us from the horrors they experienced.  However, the odd 'time capsule' still emerges.
A few months ago while sorting through some old papers left behind by my father-in-law, we found an envelope with some letters in that were not his.  The note on the outside read: letters found down the backs of chairs.  He was an upholsterer, and obviously used to find all manner of stuff that way which he gave back to the owners. But these must have come from jobs for antique dealers who had no use for them.  One was a small envelope stamped Bath, May 1945.  Inside was a four page letter sent to Harold and signed 'Madam'.  It reads as follows: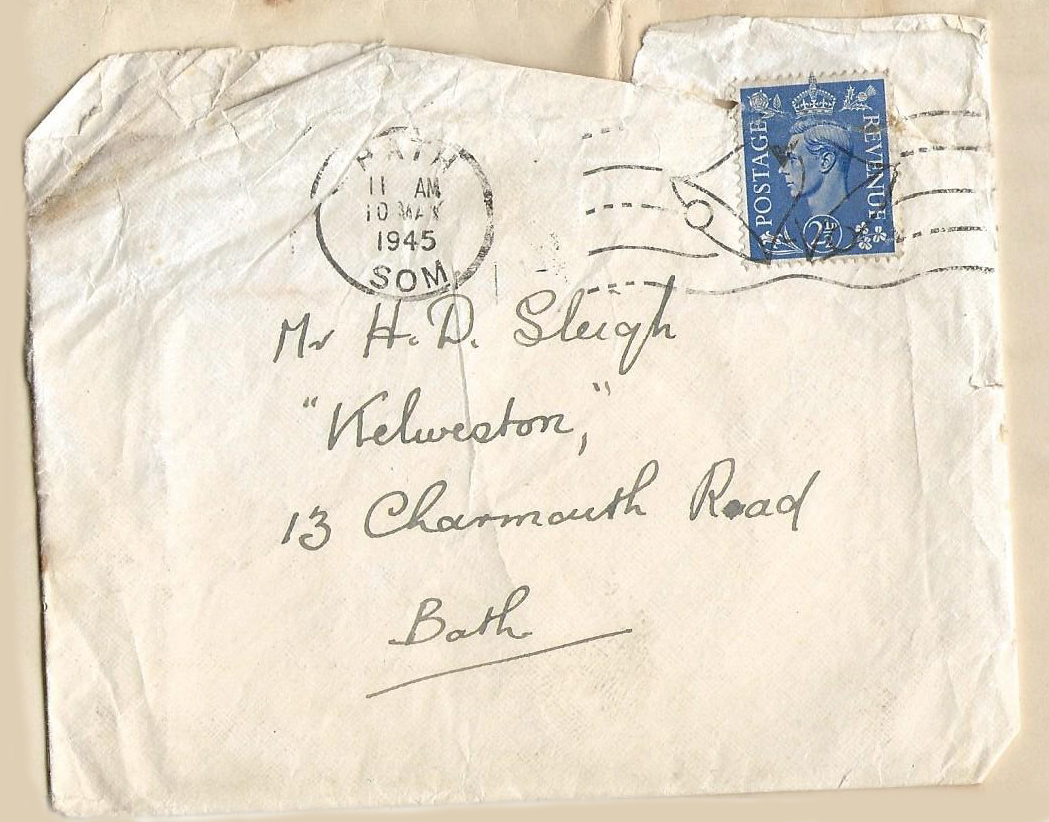 7 Nelson Place W
Bath
8th May 1945
V Day
Dear Harold
The bonfire made a beautiful blaze, & the heat, & the beautiful scent of burning wood was perfectly delightful.  I love the scent of burning bonfire wood, you do too.  Well Hitler was well & truly burnt to ashes.  Such is fame wrongly used.  Another bonfire was visible on the heights, a beauty.  I watched the fascinating scene until I felt top heavy, & those who had celebrated not wisely but too well, came upon the scene, so I came in & since then the Pows have gone out.  Strange people, stayed in all day, & now have gone out, its 11.20.
It's been a wonderful day, & as you said, one hardly realizes it yet.  The crowds are coming along from the town, shouting and singing, really we hear life, even if we do not see it – it comes in waves.  So I thought it would be nicer to talk to you, than stay awake in the dark.  Its been lovely to be able to enjoy today, as I have, even if in strict moderation, & I am so glad to have been at Percy, & to see you on the day because I missed you so very much.
I've had you every week for such a long long time, that you not coming is bound to make a big blank.  At the same time I am glad you are wanted at all these different churches and places because it would be wrong not to use your many gifts.  Only you were so desperately tired and exhausted it must have been a joy just to be free; free to choose whether you go & where you go, & it is very good.  I shall think about you, & then see how much more glad I'll be when I do get you, if that's possible.
Last week I Earned just over a pound.  Its not much really, but for me to Earn it, gee.  I went into town and & looked in all the shops to see if there was anything I could buy you, just something small to celebrate.  But both my crowns & the shops were not fruitful.  Childish, wasn't it?  But you do not quite realize how much you did for me & how you helped.  I believe you were the only one who never gave up, at least you gave me that feeling, & coming as you did when you were so tired.  I was very ill but I knew & noticed, & loved you for it.  Still they come singing, & the Pows have come back.  Oh, such a blow I cannot get that precious liver, the chemist has not any & the manufacturers have had an accident & are not making it.  The Dr may get some for me.
Dad went this morning & since then has not stirred himself at all, except as an old soldier to stand and salute each time that the "King" is played.  I think it is a lovely thing to do in private.  He always does & absurd creature that I am, it always brings the tears very near, only they just must not be seen.  It shows how much he has changed not even to have a drink for a toast.  I don't like it, on such an occasion too.  Now don't make a face at me, if you do I'll laugh at you.  (12 o'clock & the clock has stopped), so ends this wonderful day.  Tomorrow I will pay for it, but who cares.
Hope you & your Mum will enjoy your day tomorrow, & that you will feel much better for even a little holiday.  I gave Mother your love, that was what you said wasn't it?  Anyway she was very glad.  Oh dear it's mouth organ now, playing the Long Trail & the girls singing.  It's so amusing, I hear so much more with those houses down, & oh I am tired, hope they will soon dry up.
Its Goodmorning now, so its Goodmorning & Goodnight.  I think I will call you Sire, when you call me Madam, its what Admiral Sir Frank Tovey called the King tonight.  It will match "Madam" & will suit you admirably.  So Goodnight Sire.  Blessings on you abound.
From
Madam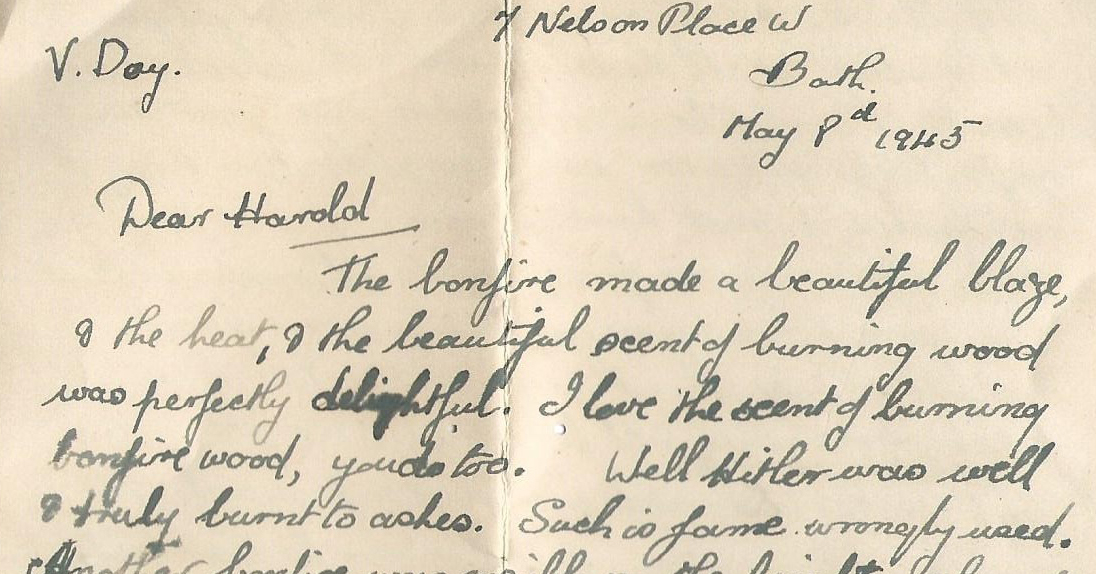 It's such a lovely letter but also a tiny portal to this time 75 years ago.  So I decided to do a bit of research on who these two people were.  I had an address for 'Madam' plus a name and address for 'Sire', but little more.  However, thanks to the various resources available online, I managed to gradually build a picture of the couple.  First 'Sire':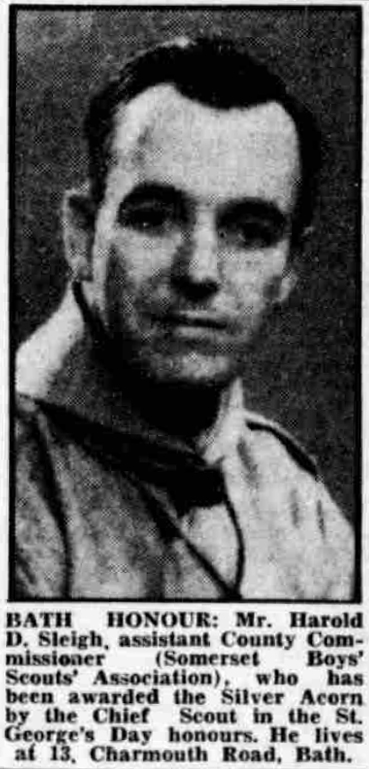 He was Harold Douglas Sleigh, the middle of three children of Simon and Mary Sleigh – at the time of Harold's birth in 1902 Simon was the third generation of surgical instrument makers running the long-established firm of Hancock & Co located in Westgate Street in Bath.  In 1945 Harold was 43 years old living at the address in Charmouth Road with his mother, and working as a Precision Gauge Inspector with the Horstmann Gear Company.  He was a lay preacher in the Congregational church movement leading services regularly at all seven of their churches in Bath between the wars and after – the mention of being 'at Percy' in the letter being their Percy Chapel in Charlotte Street (now the Elim Church).  He possessed an impressive bass baritone voice, and was a member of the Newbridge Male Voice Choir.  But his main interest was in the Scouting movement, devoting most of his life to it, and rising to be Assistant County Commissioner for Somerset.  He did not marry until later in life and died in 1982.
So who was 'Madam'?  The address on the letter was occupied at the beginning of the war by two families, Mr & Mrs Pow (mentioned in the letter) and the Barnards – Alfred, his wife Sarah and their daughter Hilda May.  Alfred was a Monumental Mason, and Hilda is annotated as 'incapacitated' so is almost certainly our writer.  In 1945, Hilda was 46 years old.  She was an accomplished pianist, and featured irregularly, no doubt due to her incapacity, in reports of charity concerts in Bath between the wars.  She was also a member of the Samaritan Lodge of the  Independent Order of Good Templars that met at the Percy Chapel, where she was a member of the congregation.  There are several mentions of both hers and Harold's name in newspaper reports both attending the same event at the Chapel between the wars.   Hilda lived at Nelson Place for the remainder of her life, but never married.  She died in 1953, just months after her mother and father had also passed.
It is easy to understand Hilda's affection for the handsome, bachelor lay preacher with the bass baritone voice who visited her Chapel regularly, and who she had known since they were both quite young.  As well as the religious connection they had a shared interest in music, and possibly even performed together at social events. He clearly provided regular pastoral care for her when she was seriously ill.
Her father Alfred was 73 when she wrote the letter, but the reference to him as an 'old soldier' standing and saluting the National Anthem went back to when he served in the Somerset Light Infantry on the North West Frontier in India.  He re-enlisted in 1914, at the age of 42, and served the entire First World War on home service, first at training establishments and then in the Labour Corps where presumably his Stonemasonry skills were particularly-useful.  War changes perceptions, and this is shown by Hilda mentioning his not toasting 'The King', which is a curious reference as the Independent Order of Good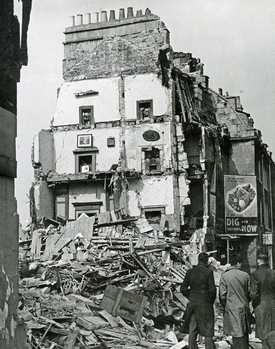 Templars, of which she was a member for many years, were a temperance organisation.
But the descriptions of what is happening outside of her window are the most fascinating.  She mentions being able to hear more of what is going on 'with those houses down' – a reference to the terrace of four-storey houses on the south side of the Upper Bristol Road going west from the corner of Nile Street.  These were destroyed when they took a direct hit from a 1000lb bomb during one of the Baedecker raids in April 1942, which would have opened up a view from the back of Nelson Place.  My memory of that site in the 'sixties and onwards was as a petrol station, but it was redeveloped in the 'noughties and now looks something like it did before the war.
But the most fascinating reference is in the opening paragraph, mentioning bonfires.  It wasn't until I researched it that it became clear there were literally thousands of these lit across the country on the evening of 8th May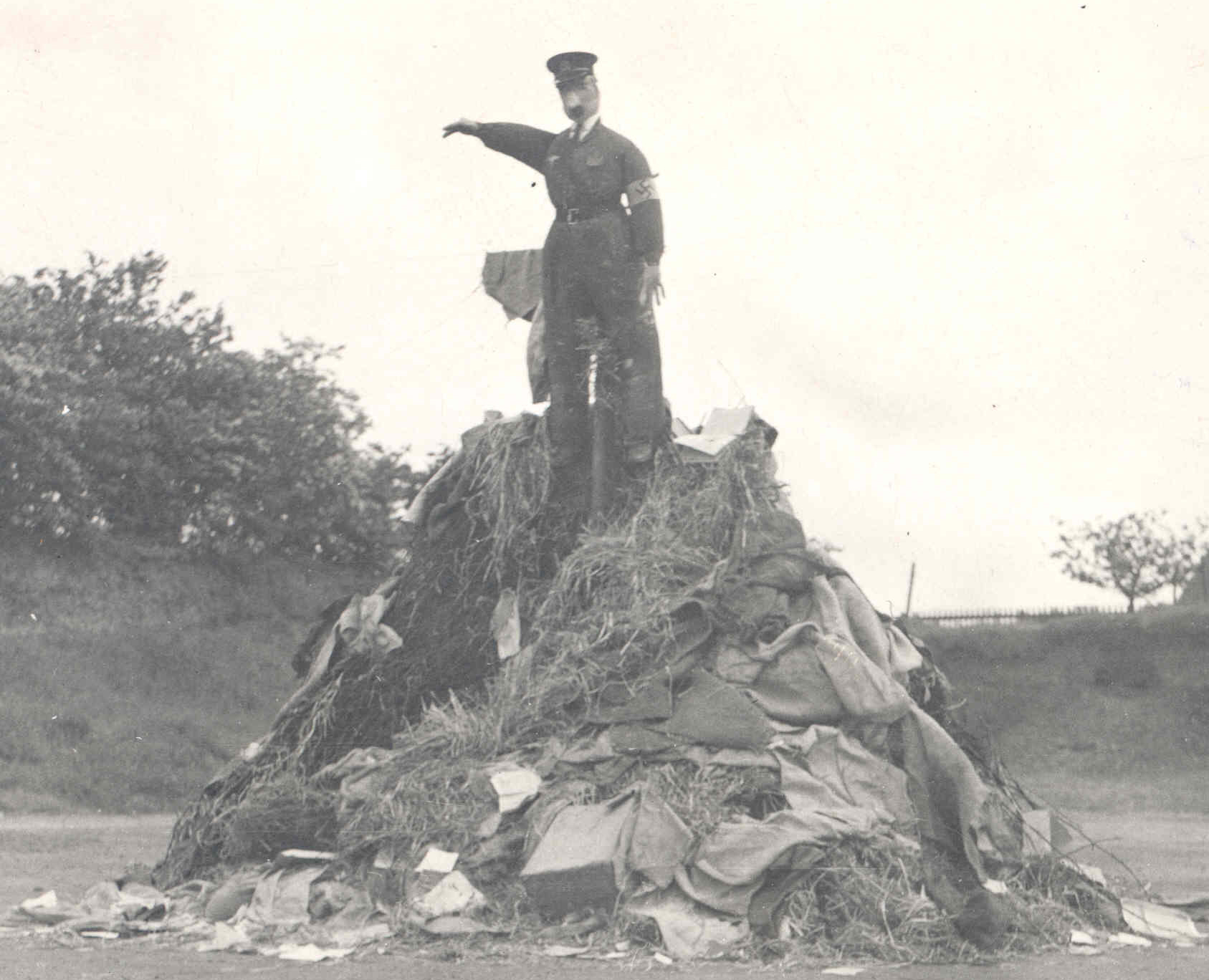 1945, and the one she mentions must have been on the green in front of Norfolk Crescent, easily visible from her front door.
Then there's the mention of Hitler being 'well and truly burnt' which I originally took as a reference to his suicide in the Berlin bunker.  But then I found pictures of VE Day bonfires with an effigy on top, a-la bonfire night, so the Norfolk Crescent bonfire must have had one such 'guy' atop it.
Just four pages written 75 years ago today by a complete stranger, but a fascinating window on a brief moment in real history.