Alec sat on his favourite ramshackle bench in the Park, as he did every Sunday on his way home from Morning Service.  The park was empty of people other than himself, which was not unusual, because although this was a small park in the midst of a large housing estate, very few of the residents used it.    So it had become a small oasis amongst a desert of hubbub, somewhat unkempt and wild in parts, with the grass more meadow than lawn.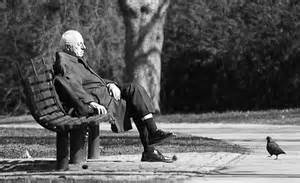 The sun was shining on this beautiful June day, and Alec closed his eyes to feel the warm rays slowly cooking his bald pate.  His children often chastised him for not wearing a hat in this weather, and were always quoting him the latest medical research on skin ailments, which he dismissed with the simple words that if God had wanted him to worry about melanoma's and the like, He would have had Alec's school teach him about them when he was young enough to absorb the knowledge.  Now, at the age of 82, he had surpassed his allotted three-score-years-and ten, and was merely grateful for every additional day he was allowed by his Master.
Not that the wider world he now occupied provided much encouragement to hang around, that is if he ever allowed it to penetrate his own inner world that he maintained for his sanity and protection.  Alec never watched TV News programmes any more, nor did he read newspapers, or 'comics' as he called them when comparing them to the 'papers of his youth during one of the many diatribes that he invested on his children and neighbours whenever they condescended to listen.  This abstinence from the World's woes also allowed him to express utter surprise at anything they rambled on about regarding current affairs, and thereby filter out any unwanted revelations.
This park was part of Alec's inner world, and he would sit here listening to the Blackbirds singing, watching the trees swaying gently in the breeze and absorbing the ever changing canvas of colour created by nature for his delight throughout the seasons.   Rain or shine, Alec would be here at this time of a Sunday for about half an hour, and he had become so much of a fixture that it is doubtful that anyone passing regularly would notice unless he wasn't there.
Today, with his eyes closed to the warm sun, and the natural music of the park gently regaling his soul, he began to review his life.   The previous Sunday had been the sixtieth anniversary of D-Day, an event that he had been a not-insignificant player in, but which he had survived when many had not.  He had not been in this park last Sunday because he had been standing straight-backed on the esplanade at Arromanches, his final military parade before his Queen.  She had actually stood before him during her walkabout and thanked him personally for all he had done for our Country.  He had never felt so proud in his life, the Queen thanking him when all he had done was to protect her and her family as he was sworn to do.   What struck him was how small she was; he wasn't a big man at five-eleven, yet he uneasily towered above her.
Or maybe it was the occasion that added a few more inches to his height as he stood between his lifelong buddies Smudger and Mitch who, although they lived hundreds of miles apart, had always kept in touch.  They shared the journey to France with him as they had sixty years earlier, then again many times since for similar celebrations.   Smudger always commented on the mode of transport.  This time it had been an air-conditioned coach laid-on by the local British Legion, and he couldn't help compare the comfort of it with that of the open-topped landing craft they used on their first journey.    Mitch always compared the weather, as D-Day itself had been foul, whereas virtually every journey since had been in beautiful summer sunshine.
Then there was the loss of his beloved Mabel who had toiled ceaselessly for nearly fifty years to provide his every need in the home before suddenly leaving him without a word one stormy night ten years earlier.   He had awoken at 4am to find his soul-mate strangely cold beside him as the wind roared outside the window and the distant lightning filled the room with momentary stroboscopic effects.  He wondered how something could be as still as Mabel was in such a commotion, but of course quickly the reality had dawned that she had no choice.
They had been courting for five years, since just before the war started, and had married, as had many soldiers who were going to Normandy, just days before D-Day.  They had managed the ceremony and one night of fleeting pleasure during the duration of a 24-hour pass before he left, and if he had not returned that would have been sufficient for them both.   That he did brought more joy to both their lives, which grew with every day thereafter, and with every event including the blessings of three wonderful children who probably never realised quite how much he really loved them as he was always winding them up with his obstreperous behaviour.
After the war, work had been an extension of the barrack-room as he and a few mates all went to work in the local bottling plant as maintenance fitters, and had laboured together in the same engineering shop for over thirty years before early retirement was forced upon them by a strange phenomenon called 'outsourcing' that he never understood; neither did his friends.   They used to meet every week for a beer and for some years were known locally as the 'Summer Wine Boys' because of some of the strange antics they all got up to.  But time took its toll and he was now the only one left to lift a weary pint to them every Friday night at the Bell.
As he thought of this, he felt a cool breeze blow across his head that soon grew into a wind.  He opened his eyes, but other than the trees swaying more than they had earlier, he could not see a source for this in the sky.  Then, just twenty yards in front of him, the grass cuttings began to swirl on the ground, and within a few seconds a small whirlwind had created itself pulling dust and grass into a perfect circular pattern dancing before him.   The whirlwind began to move first to the left, then to the right, and then it came towards his seat passing just yards to his left before stopping still behind him.   Storms had featured significantly in his life, yet although this was a storm of sorts, it was small and calm.
He turned to look at it, and as he did so he heard her voice, or at least he thought it was her.   A voice he had not heard for over ten years saying, "Don't worry Alec, it will all sort itself out in the wash."   Mabel! he thought, can it be you?  You always used to tell me that whenever something went wrong, but there's nothing wrong now, is there?
The whirlwind moved around his seat then back in front of him, just feet away before stopping again.  It made no sound, not even a rustling of the dried grass that created its form.  Then he saw deep within it a small bright light, which grew slowly until it became a radiant glow, and from within he heard a different voice, a low calm voice that said "It is time Alec, come with me now."
He felt a strange peace grow within him as the light moved forward and touched his body, and he thought he saw a figure at the end of a long tunnel with hands outstretched towards him.  "Mabel?" he asked again, but this time there was no reply, just an overwhelming calmness.   Just as quickly as it had started, the whirlwind stopped, the light extinguished and the dust and dried grass fluttered to the ground in front of the seat.
Alec's daughter found him sat in his favourite seat in the park.  His eyes were closed and his face was calm with a knowing smile.  He had not arrived for lunch at 1pm as he normally did, and after waiting for fifteen minutes, she had decided to go and look for him.  The seat was the obvious first place, and there he was. She had called to him, but received no reply.
There is a new bench in the park now, provided by many kind donations.  In memory of one of the park's regular visitors it carries a plaque that simply says:
 "For Alec and his Memories"
© 2004 CepenPark Publishing Ltd except for linked images hosted on third-party sites.
For image source details hover over the image or click on the image to visit the host site.