Was it any wonder that an Ashes series mired in controversy over technology, and the misjudgement (or more to the point misapplication) of it, should end with the farcical image of two umpires leading the teams from a field bathed in floodlight because, in the judgement of the rules, the light was too bad to continue.
It is one thing for spectators to part with their hard-earned to watch a fifth day that ultimately peters-out to a meaningless draw aided by the capricious English climate; such is the lot of a cricket fan, and ever will be.  But when a match is potentially rescued from such a fate by some positive captaincy, and devil-may-care batting, to lift the crowd towards a memorable climax of a one-sided series, why on earth should anyone want to pull the plug with just minutes left?
Hats off to Michael Clarke for trying to make some entertainment for a full house at the end of this rain-affected dead rubber, even if it did nearly turn around and bite him on the bum.   Of course, the farce generated at the end had much less to do with Clarke's antics (no different to those deployed by Alastair Cook in similar circumstances) or the umpires' pedantry, than the constant need for back-page column inches in this country.
The hue and cry of the following day was, of course, led by Aggers' need to be on every BBC TV and Radio channel for one final time before winter-oblivion ensued.  This all-consuming narcissistic trend he has developed in recent years appears to blind him to the disservice he delivers to a sport continually proving that those column-inches can be wrested from the Premier League without the need for gutter-tabloidism.   It was noticeable how many of the back-page leaders were penned by gnarled old hacks who make most of their living from relating the increasingly-tedious lifestyles of millionaire soccer z-listers.  Their need to reflect bad light on a real threat to their bread and butter was only further assisted by the barely-necessary issue of apologies for "inappropriate behaviour" or "jovial comments".
In amongst the calls for the rewriting of codes, et al, the voice of common sense came from no less than one Sir Beefy, whose question was asked not for the first time: "We're now in the entertainment business, hence all this money spent on floodlights; so why, if we're using them, is there still a problem with light?"   It's a question that, I suspect, will remain unanswered by the 'authorities'.
I am not unknown for throwing insults at a TV screen when dubious decisions occur in a soccer match but, as a long-suffering cricket fan, when the light meter came onto the field I simply shrugged acceptance and went to put the kettle on as, it transpires, did several of my keen cricketing friends.   It is a factor of having played and watched a sport for nearly sixty years that is designed to last for five days without a result, as opposed to one that only takes ninety-minutes to achieve something even less satisfactory.  What it demonstrates, however, is the ability for a more equitable sporting spectacle to encourage greater maturity in its followers.
Everyone and their dog in the media seem to believe that an England victory was inevitable – but I don't agree.  Whilst Australia probably could have won in those last four overs, with new batsmen at the crease it was not impossible.  Certainly both other results were still well on the cards, and any result, particularly a draw that would have shone honour on all sides, would have been a real fillip for the series.
Aleem Dar recognised that and did his best to finish a thrilling day's cricket by 'doing a Nelson' with the meter when he knew there was only one possibility if he called for it.   It was Dharmasena at the other end who cracked and decided that it was HE who was in danger, after which his senior had no alternative – even more reason why the Sri Lankan should be removed from the international panel with immediate effect, having been at the centre of pretty-much all of the bad publicity surrounding umpires and technology at pivotal moments during this series.   I hate to introduce a dark aspect but, if I was an administrator, I might like to feel assured that there was no possibility of large sums being endangered in another part of the world through the occurrence of an unlikely scenario.
In the end, three-nil was a fair reflection of the series.   Although there are many who would have loved to see a whitewash, or indeed a record four-nil score, I don't believe this Aussie team is the worst I've seen.  Sub-standard as a unit, certainly, but I admire Harris as a bowler, Smith is a far better all-rounder than he is given credit for in the Aussie media,  and I doff my cap to Michael Clarke as a captain with far greater maturity than many I have witnessed in the past.   None of those deserved to be on the wrong end of a humiliation, and certainly not one handed-out by a team that didn't play well-enough to warrant such an accolade – this time.
This winter is certainly going to be very interesting.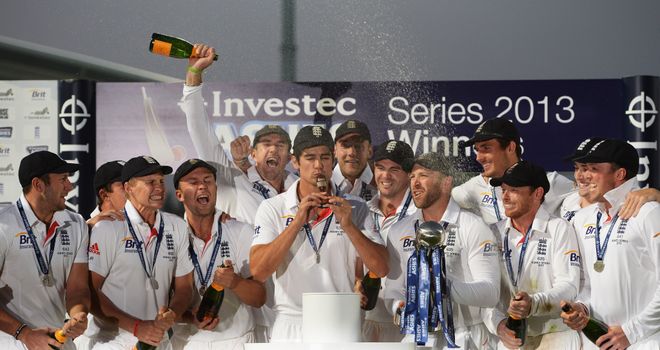 © 2013 CepenPark Publishing Ltd except for linked images hosted on third-party sites.
For image source details hover over the image or click on the image to visit the host site.